Entschuldigung! Diese Seite ist nicht in Deutsch übersetzt.
Hier sind die Informationen in Englisch :
La Confrérie de la Truffe de Bourgogne
Founded in 1994 by 9-truffle-afficionado, the headquarters are located at Is-sur-Tille (North of Burgundy). According to the Middle-Ages texts, this area has always been linked with truffles, beeing even at some time the main truffle-craddle for Kings in the kingdom.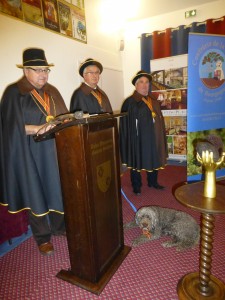 Members of the "confrérie" agreed the "Carte de la Truffe de Bourgogne", which implies that they only allow themself to find truffles thanks to dogs and the system known has "cavage" ("truffle hunting"). This system has three main advantages:
Only the most mature truffles are picked up.
Both truffles and truffles plantations are preserved.
A link between the animal and the human is established.
"Tuber Uncinatum" mycorhized trees are more and more popular in Burgundy. As a result, we hope that gradulaly the "Truffe de Bourgogne" will find its way back on our gastronomic tables. A place it should never have left.
The "confrérie" aims are:
Promote the "Truffe de Bourgogne" (Tuber Uncinatum)
Develop its gastronomy by organising meetings ("Chapitres") and taking part of popular events ("foire gastronomique"…)
Increase public awarness by developping truffle hunting ("cavage") during competitions. Some of our members also got involved in writing the book La Truffe de Bourgogne.
More details about the " Confrérie"…