2020 :An extraordinary vintage
Vintage year review :
2020, what a year ! Harvest started on the 22nd of August, the first time at the Domaine. It is caused by an early dry and warm Spring, followed by a beautiful and warm Summer. Lake of water and the heatwave in August has accelerated the concentration inside the grapes, which led to a great quality in small quantity.
Tasting advice :
This vintage is a great aging vintage ! Acidity, alcohol, noble tanins : all is here in good quantity.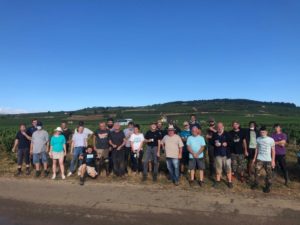 The Harvest in 2020.
That year in the vineyard…
The 2020 St Vincent Tournante took place in Gevrey-Chambertin for the fifth time of history. It will be the last celebration before the successive lockdown due to Covid 19. In this case, even the famous wine auction of the Hospice de Beaune was cancelled the third weekend of November. Its finally happened the 13rd of  December without public, festivities and marathon. The sale of the "Piece de Charité", addressed to the medical staff and their family, was a record !
That year in the world…
In January 2020, almost 12 million inhabitants have been confined in Wuhan (China) to limit the impacts of Covid 19. Several month later, France and the rest of the world is locked to face the Covid 19. In January, The United Kingdom left Europe. In the US, Joe Biden became the 46th President of the United States and his vice-president, Kamala Harris, became the first black woman to hold this position. In August, an impressive explosion took place on Beyrouth harbour. In the US, the tragic death of Georges Floyd led to many protests with the Black Lives Matter movement. At the end of 2020, the former french president Valérie Giscard d'Estaing died at 94 years old.