2018 :Generous vintage
Vintage year review :
2018 vintage is marked by a wet spring and really hot summer at the end of July. Those weather conditions gave beautiful grapes with a great maturity. Harvest started on the 5th of September with is quite precocious for the last 20 years. 2018 is also to remember because it's the first vintage by bying grapes for the Rion family trading company : Bernard RION SARL. Grapes from Pernand-Vergelesses and Chorey-les-Beaune are harvested on the 8th of September.
Tasting advice :
This fleshy and fruity wine is as appreciable young for its delicacy as after good years of aging.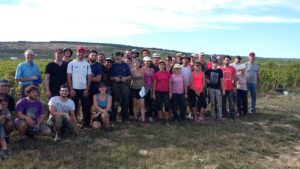 The Harvest in 2018.
That year in the vineyard…
The 2018 St Vincent Tournante was located in Prissé, in the Mâconnais region and highlights the Saint-Véran appellation. The Michael Jones's music concert for the gala dinner celebrates this day.
That year in the world…
2018 begins with the reduction of road speed to 80km/h to reduce road accident. In Italy, populists took power with the government of Matteo Salvini. In March, France was hit by a terrorist attack in Trèbes and saluted the courage of Arnaud Beltrame for its sacrifice. In the US, Mark Zuckerberg is judged because of scandals over data protection on Facebook. We are also witnessing an historic handshake between the two Koreas. In July 2018, the French football team won the World Cup and led to celebration in France. In Italy, the Genoa bridge collapses. In France and all around the world, people walk for the climate. Several members of the government resign including Nicolas Hulot and Gérard Collomb. 2018 ends sadly with an attack at the Christmas Market in Strasbourg.