2017: Elegant vintage 
Vintage year review :
The harvest begun September, 7th, so about 15 days ahead of traditional harvests. 2017 breaks with the succession of small harvests of recent years. The 2017 vintage is both qualitative and quantitative. The spring and summer were beautiful and dry, which allowed a beautiful growth of the grapes. 
Tasting advice:
This vintage, full of pleasure, will please every palate. Enjoyable young for its fruity and elegant style, as well as more mature after a few years in your cellar.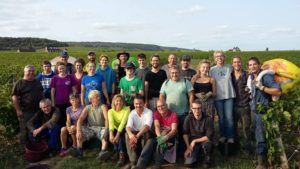 The Harvest in 2017.
That year in the vineyard…
This is real "first" in Côte d'or, all the wine makers have decided to lead a joint action in order to protect the vines from the spring's frosts. Linen straw fire were switched on to create a protective fog, in the morning of the April 28.
That year in the world…
A terrorist killed 39 people and injured 65 in Istanbul, Turkey. At the end of January, France's men's handball team won the final of the world championship against Brazil. On May 7, Emmanuel Macron won the second round of the French presidential election. At the Oscars, the prize for the best film, first given by mistake to La la Land, is finally awarded to Moonlight. Englishman Christopher Froome won the Tour de France for the fourth time and Frenchman Romain Bardet was third. Following the Weinstein affair, testimonies of violence against women are multiplying on the web with the hashtags #balancetonporc and #metoo. On December 10th, the Nobel Peace Prize was awarded to ICAN, which brought its treaty on the prohibition of nuclear weapons to the UN. Raymond Kopa, Chuck Berry, Victor Lanoux, Roger Moore, Jeanne Moreau, Mireille Darc, Liliane Bettencourt, Jean Rochefort, Jean d'Ormesson and Johnny Hallyday have left us.