Vintage year review :
1999 is the production-year record in Burgundy. Winter was sweet, May hot, the Harvest started in the middle of September. The grapes were not really acid but sugary.
Tasting advice:
Remarkable wine, wait before drink it.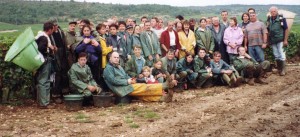 The Harvest in 1999.
That year in the vineyard…
Saint Vincent in Chablis.
That year in the world…
Euro is established, Hugo Chávez becomes President of Venezuela, fire in the Mont Blanc Tunnel kills 39 people, a total solar eclipse is seen in Europe and Asia, world population reaches 6 billion people, Columbine High School massacre, Boris Yeltsin resigns as President of Russia.
Death of the legendary director Stanley Kubrick, SpongeBob SquarePants made its debut on TV, Britney Spears releases her debut album. In theaters, Star Wars fans are lining up to see the first episode of the prelogy: The Phantom Menace. Toy Story 2, The Sixth Sense, The Mummy and The Matrix have a great success. Kevin Spacey delivers a life-time interpretation in American Beauty.