Vintage year review :
The begining of the year was fresh, without hail or rain. May was sunny and June hot. July brought hail storms but fortunatly, there were no consequences for the vineyard. The Harvest were sunny too. The wine is elegant, soft in mouth and velvety.
Tasting advice:
Don't wait to drink it.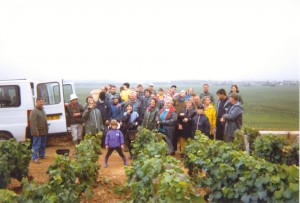 The Harvest in 1997.
That year in the vineyard…
Saint Vincent Tournante at Les Maranges.
That year in the world…
U.S. President Bill Clinton is inaugurated for his second term, it is revealed that French museums had nearly 2,000 pieces of art that had been stolen by Nazis, divorce becomes legal in the Republic of Ireland, Tony Blair is appointed Prime Minister of the United Kingdom, IBM's Deep Blue defeats Garry Kasparov in the last game of the rematch, the remains of Che Guevara are returned to Cuba for burial, the first color photograph appears on the front page of the New York Times.
A Jean Michel Jarre "Oxygene" in Moscow concert (celebrating the city's 850th anniversary) draws 3.5 million people, Paul McCartney is knighted by Queen Elizabeth II, Elton John performs "Candle in the Wind" at the funeral of Diana. Titanic becomes the first film to gross US$1,000,000,000 at the box office making it the highest grossing film in history until Avatar broke the record in 2010. Other movies that year:the Fifth Element and the last episode of the Jurassic Park saga.