Vintage year review :
Quantity and quality, two things that generaly don't stand toe to toe in Burgundy. But 1996 is one of these particular years. Winter was sweet. Rain arrived for the first time in April, but the month stood dry. June was hot and dry. Flowering was short. The robe of wines is beautiful, with little acidity.
Tasting advice:
You can wait before drinking it.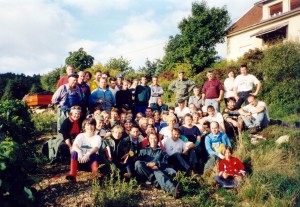 The Harvest in 1996.
That year in the vineyard…
Saint Vincent Tournante in Auxey-Duresses.
That year in the world…
One of the worst blizzards in American history hits the eastern states, chess computer "Deep Blue" defeats world chess champion Garry Kasparov for the first time, Boris Yeltsin is reelected as President of Russia, the largest strike in South Korean history begins .
The Nintendo 64 video game system is released in Japan, Oasis plays the biggest free-standing concert in UK history at Knebworth, "Wannabe", the best-selling single by any female pop group, is released in the UK by the Spice Girls while Los Lobos make the world danse on "la Macarena". In theaters, some great movies are projected: the English Patient, Independence Day, Twister, Mission: Impossible and The Rock.