2021 :
Analysis :
In spring, we had 3 days of intense frost with about 60% loss. Luckily, the small amount allows a beautiful concentration and maturity on the remaining grapes. The harvest began on the 18th of September.
Tasting Tips:
A really smooth vintage that can be enjoyed from today or in the years to come.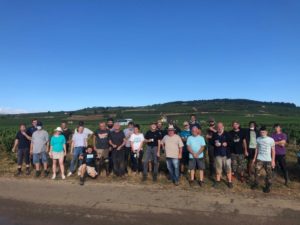 The harvest 2021 in the winery
That year in the wine world…
The Saint Vincent's wine festival of Corpeau, Puligny-Montrachet and Blagny was delayed to 2022.
It has been more than 30 years that the French vineyards didn't know such small crops. The year 2021 will be remembered for its climatology ! The enthusiasm for the Bourgogne wine got a 27.5% increase for the export.

That year in the world…
After the Covid-vaccination campaign, travels restarted.
Last but not least, the Olympic Games in Tokyo iniatially planned in 2020, started on the 23rd of July.
On the 5th of March, an historical visit of the Pople Francis took place in Irak to meet christians et give them a message full of peace : « Church in Irak is alive », the words that the Pope pronounced during a giant mass in Erbil.
On the 6th of September, Jean Paul Belmondo, figure of the French cinema, died at 88 years old.