2019 :A concentred vintage with potential
Vintage year review :
2019 is a challenging climatic year between warm, cold and humidity and gave a small harvest. Grapes were numerous but with a small juice amount and an effect of concentration. It gave a beautiful vintage with a good potential harvested from the 11th of September. Bernard RION SARL is growing with the Volnay, Volnay 1er Cru, Beaune and Chassagne-Montrachet appellations, besides Pernand-Vergelesses and Chorey-les-Beaune started in 2018. 2019 grapes from the Domaine and the trading company inaugurate the new winery !
Tasting advice :
A beautiful vintage since its early aging years that we can appreciate.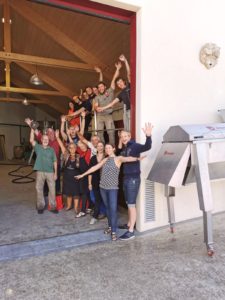 The Harvest in 2019.
That year in the vineyard…
The 2019 St Vincent Tournante is located this year in Vézelay (Yonne) in order to celebrate a new appellation: Vézelay Village !
That year in the world…
At the begin of 2019, the Cathedral of Notre Dame in Paris burnt. During the European elections in May, the right extrem party won with 23%. In September, the former french président Jacques Chirac died at 86 years. Many pro-democracy protests took place in Hong-Kong. An impeachment against Donald Trump is launched for his political management. Ursula von der Leyen is the first woman to be the President of the European Commission.