2016: High quality, low quantity
Vintage year review :
The harvest begun September, 24th, with a small team of grape pickers : there were few grapes. Spring 2016 was willy and wet, marked by some unexpected cold wave with strong frosts by the end of April. Summer was fine and very dry, wich allowed to produce a really qualitative vintage but with high volume variations from a plot to another.
Tasting advice:
It is a fruity and concentrated vintage with a really good potential.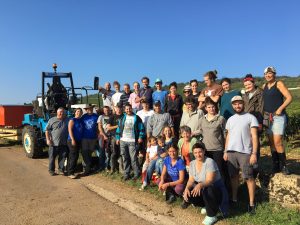 The Harvest in 2016.
That year in the vineyard…
The 72th « Saint-Vincent Tournante » took place in Irancy, in January, 30th and 31th .
That year in the world…
Chinese new year celebrated the monkey year. The Panama Papers leak created controversies all around the world. In Brasil, Parliament deposed Dilma Roussef from her function of President. In June, United Kingdom voted in favor of Brexit. Nice's terrorist attacks cast a shadow over French national celebrations. In August, Summer Olympic Games took place in Rio de Janeiro. In November, the United States elected Donald Trump as 45th President. In November, we learned Fidel Castro death in Cuba. Nobel Prize in Chemistry was won by a French man: Jean-Pierre Sauvage. It was a deadly year for show business that lost a lot of stars between January and December 2016.