2015 : a great vintage year
Vintage year review :
2015 is mostly the result of a very nice spring and summer season. The weather was really balanced with hot day and fresh night, never more than 20°Celsius in the night. In average, the temperature was 2° more than usually.
This perfect weather gave an excellent maturity to the grapes.
The harvest began the 4th of September with 31 pickers. Each day during the harvest was sunny, without morning humidity.
Like usually, we destemmed completely and the fermentation lasted about 16 days. After a gentle press, we barreled the wines. The quantity was really smaller than normal because of the drought in summer. There was less juice in the berries than what we could have expected. The result gave a very good concentration into the grapes and excellent natural alcoholic degrees !
Tasting advice:
2015 is a powerful and rich vintage, that gave us wines for ageing.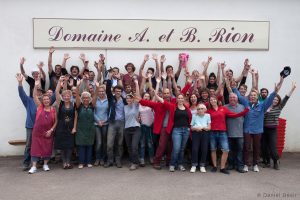 The Harvest in 2015.
That year in the vineyard…
In 2015, the « Saint-Vincent Tournante » took place in the villages of Gilly-lès-Cîteaux and Vougeot. In July, 4th, the « Climats du vignoble de Bourgogne » joined the UNESCO's List of World Heritage Site, seven years after the official launch of candidate file. Ludivine Griveau is the first woman to be Hospice de Beaune's director.
That year in the world…
Year 2015 was punctuated with several terrorist attacks in all the world, from Paris to Beyrouth. In March, a double eclipse happened, a unique event for several years. Several refugees craft sank in the Mediterranean Sea. In May, the World Expo took place in Milan. A big financial scandal shook FIFA. In July, the USA and Cuba re-established their diplomatic relationship. Justin Trudeau became the new Canadian Prime Minister. In December, COP21 took place in Paris. The British royal family welcomed Princess Charlotte.