2006: To appreciate
Vintage year review :
Winter was cold. Sometime, snow was 50cm-high. May was chaotic and the begining of June fresh. Then temperatures were normal, even good for the seasons.
Tasting advice:
Bright wine, wait before drinking.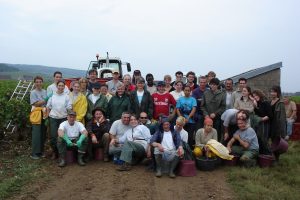 The Harvest in 2006.
That year in the vineyard…
Saint Vincent in Hautes Côtes de Nuits.
That year in the world…
North Korea claims to have conducted its first-ever nuclear test, Montenegro declares independence after the May 21 referendum, Russia cuts natural gas to Ukraine over a price dispute.
Pirates of the Caribbean: Dead Man's Chest grossed more than $1.06 billion, making it the fourth-highest-grossing film in history. Two other films, The Da Vinci Code and Ice Age: The Meltdown are also in the list of the fifty highest-grossing films.